Alumni Notes
'09  Halcyon MacTevish Malloy, second tribute of Spiny ('91) and Randall ('87), married Lisa Slog on June 9 in a relatively civil ceremony at "The Hic- cups". Also in attendance: big brother Pudnop ('07), Aunt Lola ('77), Grand- ma Snookers ('67) and Butch Cavanaugh ('89), who promised to keep "in close touch" with the bride.
'08  Ephram F. Eff's paper, "To Punch A Duck", was Second Runner-Up at Phi Alpha Beta's Western Regional Haiku Kegger.
'07  Parker Smogalert was recently spotted giving blood near a flophouse in downtown Butte. "The death-ray scheme didn't work out," he explained. "Damn Feds wouldn't fork over the last mill for research. Now I got a pistol that gives lab rats a toothache, some goon's trying to repossess the atomic accelerator and the Pinkville experiment turned everyone semi-visible. Still, Montana's had a great ski season!"
'02  Pudnop Magellan Malloy is attempting to track down the man "who's getting all the women in this family and thinks he's safe because my old man (Randall '87) is such a wuss." So obsessed is Pud by his quest for revenge that he may miss the 8th Reunion Bash. "I'll get you!" he notes. "Wherever you're hiding on God's earth, you'll never be safe as long as I'm alive! Best to all my classmates, and sorry I'll miss the big Oh-Eight."
'04  Reaction to Hilary Codweiler's series of children's books – "Kitty Will- iams, Junior Ontologist" – continues to grow; this fall will see the marketing of a line of Kitty Williams™ Morally-Accurate Syllogisms.
'03  Laura Estherjill is an Administrative Assistant on the Titling & Morony Line, a barge that carries xerox paper to Administrative Assistants in the Portland School District. "I've learned so much about so much that I can't understand why everyone's so bored with so much about everything I've learned about…" her letter begins.
'00  Squid O'Goldman reports that Cheeseball's, his downtown D.C. eaterie, "pretty much runs itself." A recent customer was alumni Butch Cavanaugh ('89) from Virginia, accompanied by an unidentified lady "with a hell- uva built."
'99  We sadly note the passing of Lily Mastodon, struck by a runaway macro virus on the information superhighway. From The Silicon Centinel (a Web bi- minutely): "Ms. Mastodon, a Beta-tester for MindWear, the venerable Internet virtually-like-new clothing store, was donning a turtleneck cyber-sweater when she was blindsided by an AI agent having cybersex with a teenager in a Ran- goon chat-room." In lieu of flowers, her family suggests forwarding spam to Bill Gates.
'97  When we last heard from Herbert Brobelbush, he was restoring an 18th Century sawmill to house a mail-order Möbius strip business. Today, Herb is one of 46 persons chosen to appear on the August 16 broadcast of "MTV Beach House". "That sawmill idea was really stupid," he observes. "But watch for my Möbius strips during the 'Beach House' bumpers!"
'95  "Those of us active in the vitally-crucial world of small-particle physics," writes Lalo Montpar, "deeply resent aspersions cast by the Neo-Communist- World Trade Organization-dominated big-particle physics lobby. During the following year, I expect to bring my slide-show 'Small-Particle: The American Molecular Physics' to Senior Citizens groups, the bedridden, and those gener- ally unable to move."
'94  "Still enjoying what I like to call 'Our Nation's Capitol'," writes Archibald Kadish III from Washington, where he is about to self-publish When Smells Collide, a study of laundry hampers. He reports seeing Butch Cavanaugh ('89) recently: "I noticed him in the garden at dawn, crouching behind my dahlias while exchanging intimacies against a leather-clad woman with a hell- uva built."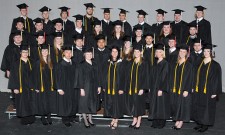 '93  The Class of '93 had a mini-reunion in an unlikely place: the Mt. Bovine Psychiatric Ward. "Do we get extra credit for this?" quips Helen Shopquik. "Lyle Rasmuss, Benjamin Cord, the Cada- ver Twins, Astrology Prof Marimba Sol- stice and I all had severe emotional probs the same week! But guess who's giving us electro-shock – (former lacrosse coach) 'Snuggles' Terrain!"
'91  Sorrell Grope, "writing from Customs while they search my bag for hours!", just took his first trip abroad and ran into Hinton Bellwether in Colombia. "He's got an incredible 'villa' which is really a small town, complete with armed guards! His job keeps him travelling around Central America but he's happy to see fellow alumni! I agreed to bring a package to some friends of his in Miami and for that little favor he paid my return fare! Boy, Customs is sure taking a long time – maybe they found that watch in my toiletries!  (Just kidding!!!)"
'90  A Mooing Of Sofas, Sasha Hermosil's translation of the writings of 14th Century Italo-Nipponese poet Benvenuto Icagami, is now in its eighth print- ing. She anticipates sales moving into double figures if her parents purchase.
'89  At the 20th Reunion: Harold Twine, Leopold Brine, Sally and Rae Ann Klein, Marcus Brain ('88), Spiny (Twein) Malloy, Butch Cavanaugh and Sonja Kastenlipperaustenburgern. Spiny and Butch, a rather hot "item" in their day, renewed their acquaintance and shared stories of her life as wife of a part-time apprentice Shift Coordinator at a speedometer cable-making company and his as an international oil consultant and import/export specialist. They made plans to get together again soon.
'88  Barb (Mrs. Doug Twart) Klempsch informs us that the Sixties are finally over. "BARB'S CRASH PADS ('Realty – what a concept') has become U D-ZER- VIT CONDOS (' Real Estate With A Vengeance'). Doug and I faced facts too and got a divorce. We're still friends, of course, and I'll be able to see the rub- ber plant on alternate weekends after I tell him where the Saturn's buried."
'87 Randall Malloy says "Not much excitement since Hal's wedding (see '09), although sometimes the mail's late. My Dad, Sneet, is still passed away. My faithful wife Spiny ('89) is spending a lot of time in Langley visiting sick people. Please tell alumni to stop by for a free speedometer-cable check."
'85 The past year was especially exciting for Carroll Spud, still on the run after 31 years on the FBI's Most Wanted list. "I almost got caught at a Wald- baum's in Taos – I'm afraid the sex-change is wearing off. See you at the 25th reunion! Oops!"
'84  Jon Diemonsterdie has resigned from International Dynamics' Puppetry Division to protest the Spanish-American War.
'83  Nellie Fox's hobby, time travel, has been causing some problems. "It's not enough that I spent most of last summer stuck in the 8th dimension," she writes. "Now I find that visiting the 12th century two weeks ago somehow made my Blastercaster records disappear. I spent so much time (and money!) amassing a complete collection of the most popular rock group of the 80's and now, poof. Happy to hear from any house-mates passing through Lynchburg."
'82  After a three-month idyll in Syria, Hyam and Miriam Farquar are off to Islamabad and from there to Iraq. "I swear! We're not in the CIA!" jokes Hyam. "Fellow oil consultant Butch Cavanaugh ('89) and I are anxious to hear from old friends: c/o Int'l Import/Export, Langley, Va."
'80  Chester Bash was recently named one of Seattle's Outstanding Young Black Women, a source of intense frustration and bewilderment to him. He's sorry he can't make the 30th Reunion, he's busy that day.
'77  Lola (Mrs. Sir Sydney Buffalo Rualla Mickey Rhyce‑Krispin Run-Fast Mhotvu O'Shaunnessey) Malloy, sister of Randall ('87), is a "resingle" in Boston. "It just didn't work out with Sid but I'm looking forward to my work with Tangential Press as editor on the 'Faardwark The Aardvark' series. I also hope to assist Faardwark (Lester Dunballs '76) on his upcoming album of children's sports poetry. P.S. to my old roomies: Saw BC ('89) in DC for AM SM in some alum's garden. What a hoot!"
'76  It's been a challenging few months for Robert "Bob" Benoit, who was locked in a broom closet by dissatisfied employees. "I can't get out," he writes, "and am hoping this letter is found before I suffocate."
'73  Betsy Panacea continues to be a wife and mother, show bulldogs, and play prominent parts in local theatrical productions, such as Third Guard in Hamlet (William Shakespeare), Offstage Voice in Skin Of Our Teeth, and the title role in Waiting For Godot.
'72  Mort Druid's taking early retirement, having bought a farm in San Luis Obispo, Maine, where he'll breed racing cows. His wife, a Professor of Muzak at Lookoutbehindyou State University, is interested in modem repair and hides from parrots.
'70  Phillip Treacle is teaching supply-side genetics at Cal Utah and finishing a book which explains how dramatic tax cuts will improve the gene pool. "Wish I could make the 40th get-together, but I can't."
'68  Cecilia Styx works at the Socio-Esthetic Pain Control Center, helping people who are uncomfortable in laundromats.  "All our training units are solar-powered!" she writes.
'67  Snooky L. (Mrs. the late Sneet) "Bosoms" Malloy was delighted to receive a "fun-packed" visit from Butch Cavanaugh ('89), an old friend of the family, following which she was hospitalized for exhaustion.
'65  Maureen Corona, author of last year's Feel My Tummy, Lord, is active in "Pittsburgh Presbyterian Concerned Interaction", a quasi-denominational group which encourages self-expression by area Catholic, Jewish, Protestant and African-American youth couples who can't pay their phone bills. "On our three-week retreats, we emphasize movement therapy, alpha training, spiritual mas- sage and variable‑rate loans to show that we truly care about helping young- sters avoid missing a chance not to learn about how to better get in touch with themselves or their society."
'64  "Anyone heard from Daria Hummel ('65)? She's got my comb!" is the sad plaint of Thalia St. Bill, still consumed by irrelevant frippery with relish.
'62  From our Odyssey files, the recent trip of Carole and Joe Flapling deserves honors: "We started out in Genoa, Italy and travelled North to North Genoa, where we sampled the table salt and bought postcards till dawn. Then we returned to Genoa and waited for the next boat north, which we discovered was manned by Venusians! We were brought to Venus, laughed at, and returned to… North Genoa!, where we found a postcard-shop owner who believed our story then gave us a glass of water."
'61  Donaldetta Maaaaaaaaas is a bit "off my feed" but otherwise doing great. She writes "Our sons and daughters have given us 23 grandchildren, most of whom we've given back."
'60  Saline Partsnooper has been re-elected yet again as Mayor of Saline- ville, Ok. (pop. 8472) by a margin of over 12,000 votes. He'll miss the 50th Reunion due to "stuff".
'58  Frieda (Mrs. Jock Cavanaugh '54) Phlegm, a retired glass eye-blower from Fresno, has long been active in community affairs. She served as Vice- President of the Fresno Women's Attack Dog Support Committee, was a char- ter member of the Fresno Socialist Workers Party Teen Bowling Team Glee Club, was honored with a Promptness Citation by the Courtney Thorne-Smith/ "According To Jim" Boosters (East Fresno Div.), and remains Chief Fundraiser for the Ambivalents Rescue Guild (Fresno); Secretary of the Southwest Fresno Branch of the Between-Meal Snacks Scolding Society; Fresno Area lecturer for the League of Hermaphrodite Voters; and Tri-Fresno Phone Bank Resource Person for the U.S. Water Sports Safety Squad Civilian Review Board Pep Gals.
'55  "Darn my hat!" exclaims Beverly Clambottom of Pinkville, Montana. "Where is everyone? Whenever I go outside no one's there, and I'm not kid- ding! Nobody! I look and I look and sometimes I see these sort of half- shapes moving around. What the heck is happening? If this is some kind of joke it's not very funny!"
'54  Jock Cavanaugh, living the life of Riley, has been served with a lawsuit by Riley, who wants his life back. "Nuh-huh. I won it fair and square in a poker game," declares Jock. "Let him take the flack for my bimbo son ('89) with the floozies hangin' off him like flies on a old dried-up piece of goose-liver paté – I like bein' an Admiral!"
'49  Mitchell Sklar recently had the bottom half of his torso removed but otherwise is doing okay.
'47  Myron Bainbranch is sick sick sick.  "Boy, do I feel rotten!" he writes. "I'm old and sick and getting worse every year.  Oh well!"
'44  Beverly Hailp is in critical condition at Our Lady Of Internal Injuries Hos- pital in Santa Cruz. "I'm barely conscious," she notes, "and can feel my life slipping away moment by moment."
'41  Fred Kolodny recently died and would like to hear from other dead alumni.