The Muppets Take Manhattan
I was credited as Special Consultant and had a great time hanging on the set with director Frank Oz. Muppet Maniacs can read my interview about the mov- ie on the website "Tough Pigs", as well as some discussion of the Misch-script- ed Jim Henson pilot "Inner Tube".
Here's a fun scene from the movie where Ker- mit, suffering from am- nesia, becomes a Mad Man (er, Frog). Follow- ing that, Kermit joins his buddies for lunch: "I'll pick up the bill, Phil." "Would you like something from the grill, Jill?" "No – meat makes me ill, Gil."
(All those Hmmms? Ribbing Jim Henson, who did that both as Kermit and in real life.)
"The Making of THE MUPPETS TAKE MANHATTAN"
Buy THE MUPPETS TAKE MANHATTAN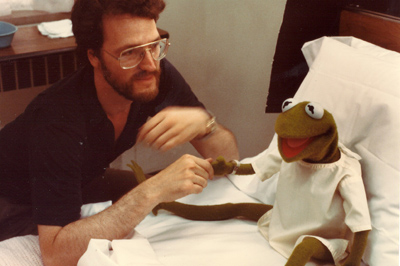 In a moving hospital bed reconciliation, 
Kermit the Frog shakes hands
with David the Misch 
after their bitter salary dispute turned violent.