The Worlds of Comedy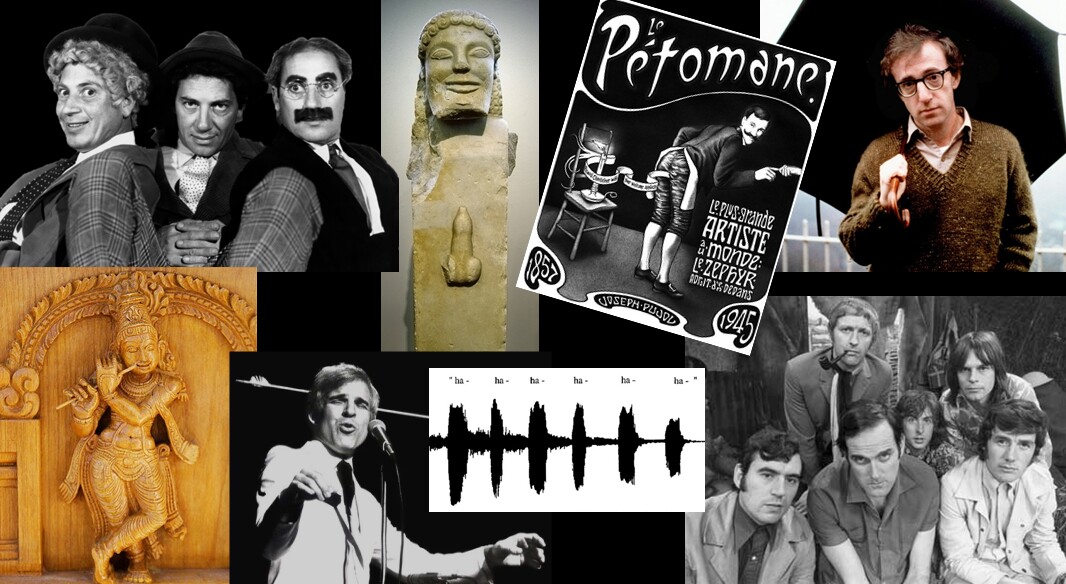 UCLA Extension course evaluations…
"The funniest class ever; I truly loved it."
"Fantastic selection of clips."
"Funny, irreverent, accessible."
There are survey courses in Art, History, Art History and (this is true) History of Art History. Isn't it time for one of the most vibrant and popular of the arts to be taken seriously? (Here you say "Yes.")
The Worlds of Comedy has the temerity to claim comedy is an art form, then try to prove that by looking at what it is and how it works – the history, myth- ology, anthropology, biology, philosophy, psychology and even theology of comedy.
We'll see examples from comedy's most expert practicioners, including Chap- lin, Keaton, Groucho, Woody, Sellers, Pryor, Martin, Ferrell, Python, Colbert, C.K., Stiller, Silverman and Schumer.
David also draws on his background in comedy to show how professional hu- mor is constructed.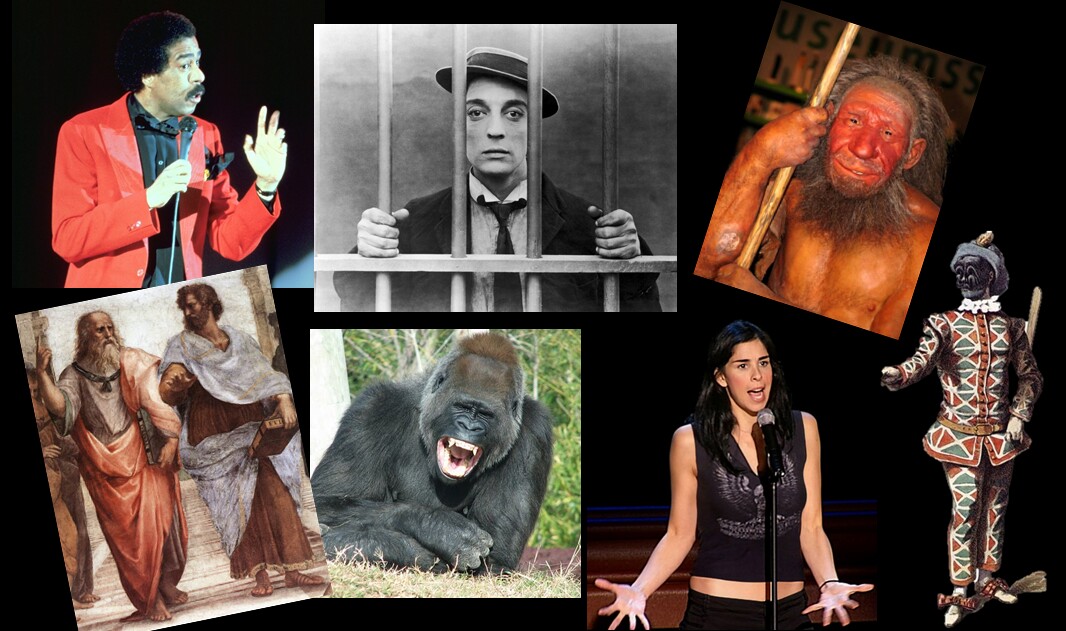 An academic version of this course ("Practical Foundations of Comedy") was given at the University of Southern California's School of Cinematic Arts, and a professional version at the Academy of Television Arts & Sciences in New York.
David's seminar "How Comedy Works" is a single-session version of the aca- demic course, aimed primarily at professionals.
David's a member of the Entertainment Industry Association of Consultants and Editors (eiACE), helping writers, directors and producers with the creative process; more here.
 ~~~~~~~~~~~~~~
David Misch has been writing and producing comedy for more than 40 years. Among his credits are "Mork & Mindy", the Emmy-nominated adult animated series "Duckman", "Saturday Night Live", "The Muppets Take Manhattan", and a wide variety of projects for film and television. He is also an author, play-wright, songwriter, blogger, and recovered stand-up comic.
He's taught or lectured at cultural, professional and educational venues around the world, including the Smithsonian Institute, Columbia University, Oxford University, University of Sydney (Australia), Yale University, The Actors Studio (New York), University of Southern California, the Grammy Museum, UCLA, American Film Institute, Austin Film Festival, Lucasfilm/ILM, the Burbank Com- edy Festival, and the Midwest Popular Culture Association, SATE Themed Ent- ertainment and VIEW Cinema (Torino, Italy) conferences.

"Funny: The Book / Everything You Always Wanted To Know About Comedy" is in the collections of the New York, Los Angeles, Chicago and Boston Public Libraries, and is required or suggested reading at colleges such as the Uni-versity of Southern California, UCLA, University of Sydney (Australia), Ford-ham University, Cal State Fullerton, Art Center College of Design (Pasadena), Bowling Green State University.
EVALUATIONS
UNIVERSITY OF CALIFORNIA, LOS ANGELES EXTENSION
"You MUST have this class again.  It was so interesting and chock full of infor-mation and history. Extremely worthwhile."
"Comprehensive overview of subject"
"(Instructor) communicated well, was knowledgeable of the subject matter and encouraged class participation."
"(Instructor was) very interesting, very prepared, very organized, and added the extra element of being funny."
"I appreciated the extensive outside materials – books, videos, recordings, etc. – distributed with each class."
"I just retired after 30 years of teaching U.S. History. I respect that the discus- sions were so well planned and the lectures easy to understand. I am quite impressed."
"The cookies he brought for the last class had absolutely no effect on my eval- uation."
~~~~~~~~~~~~~~~~~~~~~
UNIVERSITY OF SOUTHERN CALIFORNIA, SCHOOL OF CINEMATIC ARTS
"David is enthusiastic, funny, made difficult concepts easy to understand, encouraged student participation and had helpful visual aids."
"He is extremely familiar with the subject and readings.  He is open to and encourages students to raise their hands and share their analysis.  Showed a variety of clips, audio, etc."
"He explained difficult concepts well.  He also assigned readings that made the study of comedy academically challenging."
"He understood the fundamentals of comedy and communication was clear.  He made time for students and is open-minded."
"It was a surprisingly intellectual, challenging course.  I learned a lot and looked forward to the class every week."
 ~~~~~~~~~~~~~~~~~~~~~
SKIRBALL CULTURAL CENTER (Los Angeles)
"(I liked) the scope of his knowledge of the topic, his entertaining style of presentation & humor, analyzing the profound nature of comedy from a cul- tural, historic, psychological, philosophical, scientific point of view."
"Intimate, personal, easy to talk to.  Entertaining."
"Deep knowledge of both history & current world of comedy. Extremely well organized & prepared. Material selected for video/audio was very funny. And the teacher was very funny."
"He was very organized with a great deal of information. Responsive to ques- tions."
"A fascinating subject taught by an academically – and experientially – informed instructor."