Duckman
One of the shows I'm proudest of. Starring the voice of Jason Alexander, adapted from an Everett Peck comic by Jeff Reno and Ron Osborn ("Meet Joe Black", "Moonlighting", "The West Wing") and animated by Klasky-Csupo, "Duckman" was as edgy as animation gets, and yes, I'm including "South Park" and "Family Guy".
During our four-year, 70-episode run we were cruelly deprived of an Emmy (despite two nominations) but we took consolation with a CableAce (Best Animated Series on cable) and Best Animated Program (in the World, baby) from the Banff Internation Television Festival.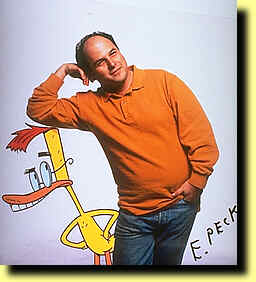 Broadcast on USA (whose program- ming at the time consisted primarily of wrestling and "Wings" reruns), the show was about a duck detective, his pig partner Cornfed (Gregg Berger) and shrewish sister-in-law Bernice (Nancy Travis), who moved in when his wife died to help raise his moron son Ajax (Dweezil Zappa) and two- headed other son(s), Charles (Dana Hill) and Mambo (E.G. Daily). A fre- quent guest-villain was King Chicken (Tim Curry).
I arrived its second season and rev- eled in the freedom of animation and (mixed blessing) anonymity. We tried to be not only funny but innovative, incorporating musical numbers, live-action and lots of satire.
We also had some pretty cool guest stars, including Ben Stiller, Kim Catrall, Heather Locklear, James Brown, Brendan Fraser, Joe Mantegna, David Duch- ovny, Lisa Kudrow, Ice-T, Burt Reynolds, Dana Delaney, Leonard Nimoy, Janeane Garofolo, Coolio, Robert Klein, Jeremy Piven and Carl Reiner.
When an episode that parodied Forties thrillers ("Noir Gang") came out well, we did other tributes to favorite genres, including Bob Hope/Bing Crosby "Road" pictures ("The Road To Dendron") and Forties scare comedies, like the ones with Abbott & Costello and The Three Stooges ("Duckman and Cornfed in 'Haunted Society Plumbers'", with a surprise guest star at the end).
For the Hope/Crosby parody, composers Scott Wilk and Todd Yvega collaborated with D.A. "Yip" Misch to write "The Road To Dendron (Love Theme from 'The Road To Dendron')".
Mr. Alexander cut his teeth in musical theater; despite an abrasive character voice, Jason – and Gregg Berger as Corn- fed – did a wonderful job in this duet, sung on a bus taking Ajax on a field trip.  (Bus driver Ben Stein has a cameo.) Click on the image at left to see/hear.
It was named the Most Criminally Und- errated Cartoon Series by WatchMojo, while Den of Geek says we need Duck- man more than ever. If you already know the show, check out analyses of three of our best episodes: "The Once and Future Duck", "Duckman and Cornfed in 'Haunted Society Plumbers" /"The Road To Dendron" and "Cock Tales For Four".
Lots of episodes are on YouTube, and I urge you to check out what The New York Times called "a television treasure". Misch-centric titles include "Hamlet 2: This Time It's Personal", "The Mallardian Candidate" and "Clip Job" (an un- usual highlights show with Stiller).
Better, forget YouTube and buy the DVDs – I get 4½¢ from each sale!