Police Squad!
I was living in New York when I got hired. They flew me to L.A.; a car brought me from the airport to the beach, then I walked a half-mile in 90° heat wear- ing a sports jacket and spiffy East Coast shoes to meet Jerry Zucker, Jim Abra- hams and David Zucker, who were judging a bikini contest. Welcome to L.A.!
As preproduction began, ABC called ZAZ to say they wouldn't accept Leslie Nielsen as Sgt. Frank Drebin – too old. Jerry, Jim and David hung up their phones, walked out of the office and drove off the lot, saying "We don't need this shit, we're millionaires."
We got Leslie.

The show was a deadpan sendup of police procedurals, in the style of ZAZ's hit movie, "Airplane!" One of my favorite lines is in an episode I co-wrote, "Ring of Fear". (Robert Wuhl wrote the line. But I approved it!)
A wailing sax is the musical transition to a boxing arena (according to the mar- quee, the card that night includes "Kramer vs. Kramer") then to the boxer's dressing room, where it turns out he's the one playing the music. But Nielsen takes away his instrument: "Sorry," he says. "No sax before a fight."
I did write this, though: Drebin goes into a bar, sits on a stool. Bartender: "What'll you have?" Drebin: "Screwdriver." Bartender hands him a screwdriver, Nielsen adjusts the seat then returns it.  (Bartender: "Anything to drink?" Drebin: "No thanks.")
In another scene, Drebin's called to investigate a boxer's death. There was a lot of exposition and I had to find a way to get it out and still be funny. My solution's here.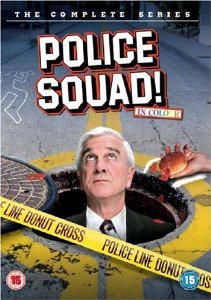 ~~~~~~~~~~~~~~~~~~~~
While all the produced episodes were written by three-person teams (I worked with Wuhl and Tino Insana), the seventh was to be written and directed by me. We were cancelled after six.
(The story goes that network president Tony Thomopoulus said the problem was "you have to watch it to get it." TV Guide later called this the stupidest reason in history for ending a series. But I'm not sure I agree; many people – my mother, to name but a few – watch TV while doing other things, meaning she'd never get "Police Squad"'s relentless visual gags.)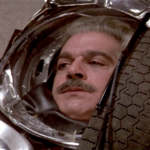 Zucker-Abrahams-Zucker had the idea of parodying the 60's show "Ironside", about a cop in a wheel- chair, by adapting it to a famous bit from the movie "Goldfinger"; the cop is crushed inside his car but is still determined to do his job. (Later, Omar Sharif played a similar character in ZAZ's "Top Secret!"; left) The resulting script is the legendary (if only to me) unproduced 7th episode of "Police Squad!" (Read "Testimony of Terror or: A Kitten For Amy" here.)