EVENTS
(California unless noted)
Wed. July 6 – streaming
"Writing Comedy", an online seminar from The Writers Store
with David, Onion founder Scott Dikkers and screenwriting
teacher Steve Kaplan.  1-2:30 PM; $29.99, tickets here.
Thurs. July 21 – everywhere on earth
(except, for some reason, Papua New Guinea)
"A Beginner's Guide To Corruption" available in print and eBook;
a satirical look at politics, finance and romance which shows how corruption
as a route to wealth and happiness is fast, easy and effective, other than
when it takes years, requires enormous effort and doesn't work.
"When Life Gives You Lemons, Steal Lemonade"
Aug. – Hollywood (private)
David talks about "How Comedy Works" to the
Stephens College TV and Screenwriting MFA program.
Oct. 13-16 – Austin, TX
David speaks at the Austin Film Festival.  Details soon; purchase badge here.
 Nov. 4-6 – Ojai
David's at the Ojai Film Festival.  Details soon; tickets here.
Nov. 13 – Hollywood
David reveals "The Shame of Satire" for Sunday Assembly Los
Angeles, "a Godless community".  11:10 AM; free, all wecome.
Thurs. Dec. 29 – Sat. Jan. 3, 2017 – San Francisco
"The History of Ha!" at the international Road Scholar program,
along with four other lecturers on a wide range of topics;
includes excursions around the Bay.
$1,029; program details (choose 12/29-1/3), purchase.
Jan. 2017 – North Hollywood
David's comedy "Pretty Naked People", starring
Paul Provenza, directed by Rick Shaw, has its world
premiere at the Secret Rose Theatre.  Details soon.
NEWS
Congratulations to lg5563d37 (let's hope that's a pseudonym) who won David – technically, his talk on "The 15 Greatest Satirical Songs" – in the KPCC (Pasadena Public Radio) Benefit Auction.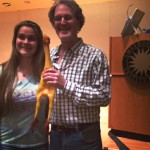 David explains why "Artificial Intelligence Is A Joke" in The Huffington Post.
Thanks to the Smithsonian Institute for a great evening (right; David greets two fans).
Gearing up for the event, the D.C. Improv posted this interview.
Please visit our affiliated site: Emily Misch, Soprano.
RECENT MEDIA  (for more media click here, see left column)
The New York Times' Bill Carter discusses the impact of "The Colbert Report" with Josh Zepps on "HuffPost Live"; David chimes in.
David's "Henri Doupier: Man or Myth?  Or Man?" is in the Sherman Oaks Review of Books.

For a report on David's appearance at the VIEW Cinema Conference, click here.  But only if you speak Italian.
Want an extensive analysis of the rise and fall of "Mork and Mindy"?  Look no further.
David's talk in Ohio was covered by WFMJ, Youngstown's news leader; click here to see.  (For more video than you can stand, click here.)
~~~~~~~~~~~~~~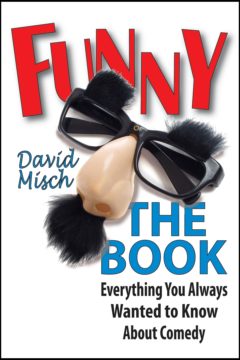 "Funny: The Book / Everything You Always Wanted To Know About Comedy"
is available in print and interactive e-book editions, and wherever
fine (and, let's be honest, also sucky) books are sold.
CLICK HERE TO BUY; for more info, click book cover on left.
Reviews the author totally didn't pay for:
"Lives up to its title… brilliant." – Aimee Levitt, Chicago Reader
"Really funny." – Mark C. Miller, Huffington Post
"Comedic gold." – BookBub
~~~~~~~~~~~~~~
David's essay "The F-Word" is in "Faith: Believers, Agnostics and Atheists Confront the Big Questions" (Simon & Schuster/Beyond Words); click here for an excerpt in Realize Magazine.
20 years after "Duckman", Daniel Kurland at Den of Geek! says we need it more than ever. (David agrees.)
At the height of the controversy around New York City's "Ground Zero Mosque", David proposed his foolproof plan to terror-proof America in The Huffington Post.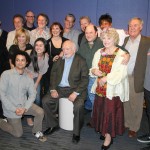 Thanks to Jason Alexander, Ed Asner, Kristen Miller, Charles Shaughnessy, Phil Proctor and everyone else who did the reading of David's pilot "Doug and Cindy" at the Writers Guild of America, west.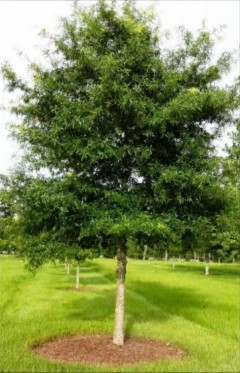 During the 2012 Michigan Republican primary, Mitt Romney declared that Michigan trees were "the right height".  Here with a heartfelt rebuttal, is a tree.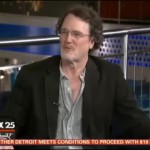 David endures five minutes of brutal interrogation by FOX 25 (Dedham, Mass.); click to view.
BE SURE TO VISIT OUR GIFT SHOP
"Monsters": Taps, My Zombie Lover
"Faith": The F-Word
"May Contain Nuts": Alumni Notes