EVENTS
Wednesday, April 23 – New York City
David discusses "Comedy In Society: Satire, Censorship & Swearing" at the New York Public Library (mid-Manhattan branch); 6:30 PM, free.
Thursday, April 24 – New York City
David's at the New School with his seminar "Understanding Comedy: The Rules".
Sunday, May 4 – Hollywood, CA
David presents "Understanding Comedy: The Rules" at the Second City Training Center; 1 PM.  $75; details here.
Wednesday, May 14 – Los Angeles
David reveals "The History of Ha!" at the L.A. Central Public Library; 6:30 PM.  Free; details here.
Sunday, June 1 – San Diego

David presents "Understanding Comedy: The Rules" at Finest City Improv; 2:30 PM.  $50 (Early Bird, in effect now)/$65; details here.
NEWS
David's essay "Comedy vs. Faith" appears in "Faith: Believers, Agnostics, and Atheists Confront the Big Questions" (Simon & Schuster / Beyond Words; 2015).
David's "Funny: The Book / Everything You Always Wanted To Know About Comedy" is available in print or interactive e-book editions, and wherever fine (and, let's be honest, also sucky) books are sold.  CLICK HERE TO BUY; click book cover below for more info.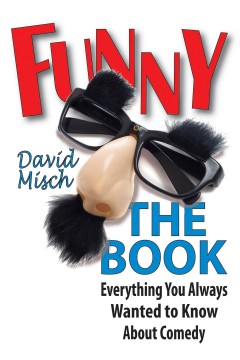 Reviews the author totally didn't pay for:
"The book lives up to its title… brilliant." – Aimee Levitt, The Chicago Reader
"Comedic gold." – BookBub
"I don't know a more literate and hysterically funny resource." – Lou Marzeles, The Goldendale Sentinel
"Will make you laugh out loud." – Gene Lavanchy, FOX 25
David reveals Obama's new spy restrictions on The Huffington Post.
Thanks to Jason Alexander, Ed Asner, Charles Shaughnessy, Kristen Miller, Phil Proctor and everyone else who participated in the reading of David's fantasy sitcom "Doug and Cindy" at the Writers Guild of America, west.
David endures 5 minutes of brutal interrogation by Gene Lavanche of FOX 25 (Dedham).
Jamie Reno (Newsweek, The Daily Beast, The New York Times) calls FTB "the best book ever written about comedy"; some people damn with faint praise – I almost fainted with the damn praise.