VISIT OUR GIFT SHOP!  CLICK HERE OR SCROLL TO BOTTOM
APPEARANCES
(California unless noted)
Feb. 27 – Hollywood (private)
"How Comedy Works" at the American Academy of Dramatic Arts
March 20 – Los Angeles
"The Shame of Satire" at the University of
Southern California Secular Student Fellowship
April (appropriately enough) 1 – Burbank
"How Comedy Works" at The Writers Store
1-4 PM, $79; tickets here
Mondays, April 3-June 1 – Los Angeles (Westwood)
"The World of Musical Satire" at UCLA Extension, 1-3 PM
Register here (must be Osher member)
April 5-8 – Lewisburg, PA
"The Shame of Satire" at Bucknell University's
"The Ethics and Aesthetics of Stand-up Comedy"
conference, $250 and under; register here
April 28 – Claremont
"The Shame of Satire" at Pomona College; more info soon
Thursdays, May 11-25 – Woodland Hills
"The Worlds of Comedy" at UCLA Extension's new
Woodland Hills campus; register here (must be Osher member)
NEWS
WatchMojo calls "Duckman" the #1 Criminally Underrated Cartoon Series, and who am I
to argue?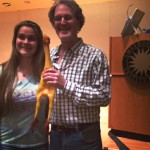 Thanks to the Smithsonian Institute for a great evening (right; David greets two fans).
Gearing up for the event, the D.C. Improv posted this interview.
David explains why "Artificial Intelligence Is A Joke" in The Huffington Post.
Congrats to our affiliated site: Emily Misch, Soprano; Metropolitan Opera National Council Auditions Eastern District Finalist.
RECENT MEDIA (for more media click here, see left column)
See David at the Austin Film Festival in the Speaker page video section, under "Professional/Academic."
In an illustrated interview, Ed Robertson talks to David about "A Beginner's Guide To Corruption", Garry Marshall,
                                                               Robin Williams and more.
David interviews himself in Script Magazine, Bookpleasures, and FreshFiction.
David has a short piece in The American Bystander, a print-only(!) humor magazine featured in the New York Times.
Henri Doupier: Man or Myth?  Or Man?" is in the Sherman Oaks Review of Books.

For a report on David's appearance at the VIEW Cinema Conference, click here. But only if you speak Italian.
David's talk in Ohio was covered by WFMJ, Youngstown's news leader; click here to see. (For more video than you can stand, click here.)
                              ~~~~~~~~~~~~~~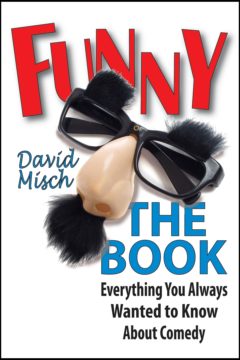 "Funny: The Book / Everything You Always Wanted To Know About Comedy"
is available in print and interactive e-book editions, and wherever
fine (and, let's be honest, also sucky) books are sold.
CLICK HERE TO BUY; for more info, click book cover on left.
Reviews the author totally didn't pay for:
"Lives up to its title… brilliant." – Aimee Levitt, Chicago Reader
"Really funny." – Mark C. Miller, Huffington Post
"Comedic gold." – BookBub

 ~~~~~~~~~~~~~~
Not to mention (and yet here we are mentioning)…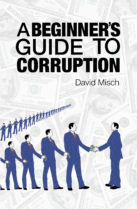 ~~~~~~~~~~~~~~
David's essay "The F-Word" is in "Faith: Believers, Agnostics and Atheists Confront the Big Questions" (Simon & Schuster/Beyond Words); click here for an excerpt in Realize Magazine.
20 years after "Duckman", Daniel Kurland at Den of Geek! says we need it more than ever. (David agrees.)
At the height of the controversy around New York City's "Ground Zero Mosque", David proposed his foolproof plan to terror-proof America in The Huffington Post.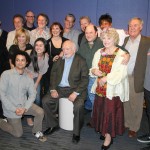 Thanks to Jason Alexander, Ed Asner, Kristen Miller, Charles Shaughnessy, Phil Proctor and everyone else who did the reading of David's pilot "Doug and Cindy" at the Writers Guild of America, west.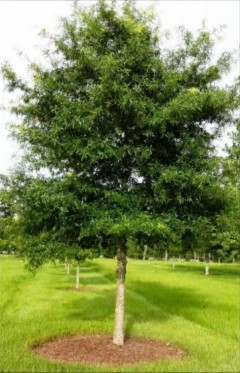 During Mitt Romney's presidential campaign he declared that Michigan trees were "the right height." Here with a heartfelt rebuttal, is a tree.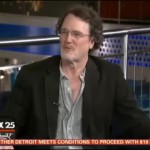 David endures five minutes of brutal interrogation by FOX 25 (Dedham, Mass.); click to view.
OUR GIFT SHOP STOCKS ITEMS VOTED #2 STOCKING STUFFERS!
(#1 is legs)
MONSTERS: "Taps", "My Zombie Lover"
THE AMERICAN BYSTANDER: "In Massachusetts…";
FAITH: "The F-Word"; MAY CONTAIN NUTS: "Alumni Notes"